Primeasia University Holds its Colorful Annual Picnic
Posted on February 20, 2019
Tags: Nahar Garden Annual Picnic Primeasia University
---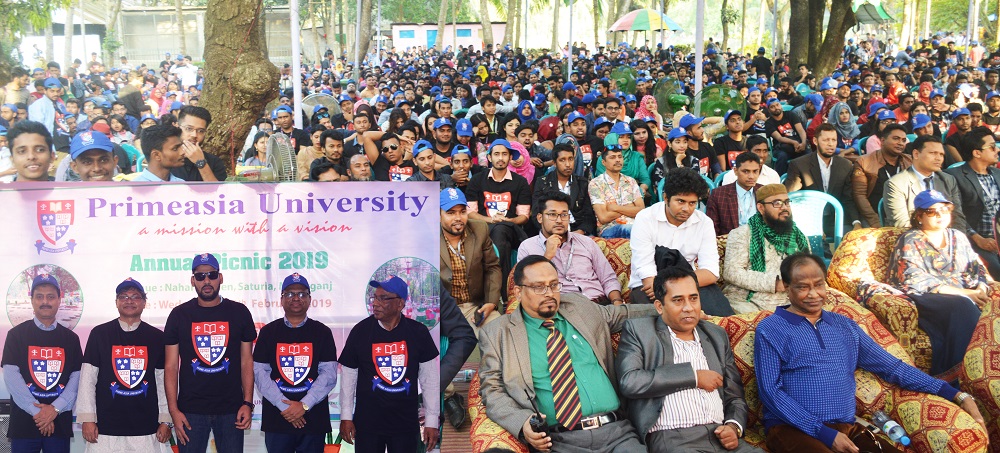 ---
Primeasia University has arranged its Annual Picnic 2019 at the Nahar Garden, Saturia, Manikganj on Tuesday February 20, 2019. Around 1800 students along with Members of Board of Trustees, faculty members, Officers and staff joined in this picnic.
Mr. Raihan Azad, Alternative Director of Board of Trustees thanks to the students and respective audience for the successful picnic arrangement in absence of Mr. Md. Nazrul Islam, Honorable Chairman, Board of Trustees of Primesia University and the Chief Guest of the Picnic while Prof. Dr. Abdul Hannan Chowdhury, Vice Chancellor of Primeasia University presided over the event. Mr. Md. Azahar Khan, Chairman of Mithila Group was present in the program as the Guest of Honor.
Among others, Mr. AKM Ashraful Haque, Treasurer, Mr. Abul Kashem Molla, Registrar, Prof. Dr. AHM Habibur Rahman, Dean, School of Business, Prof. Dr. AJM Omar Faroque, Dean, School of Science and Prof. Sk. Md. Hasanuzzaman, Dean, School of Engineering, Dr. Mohammad Nazir Hossain, Head, Department of Biochemistry and the Convener of Primeasia University Annual Picnic 2019 and Mr. Mohammad Nazrul Islam, Assistant Professor of BBA Program and the Members Secretary along with other members of the Committee were present in the Annual Picnic.
In the program, Proctor, Heads of the departments, Faculty members, Students from different departments, Officers and staff of the University took part in this picnic.
Fareast Islami life Insurance Company Limited, Mithila Group of Industries, Prime Islami Life Insurance Limited, Union Bank Limited, GETCO Group, Prime Islami securities Limited, Fareast Islami Securities Limited, Islami Bank Bangladesh Limited, Annon TEX, Protein Source, Ex-Students of Textile Engineering of Primeasia University Mr. Uzzal Dakua, Mr. Rashed Ahmed, Mr. Md. Sohidul Islam, Mr. Saiful Islam Nadim, Mr. Shubhankar Dewri, Mr. Abul Bashar Md. Sarwar Hossain were the Sponsors of the Picnic.
In this picnic, Songs, Dances and Folk Songs performed by the students of Primeasia University Cultural Club (PAUCC). Laptop Computer, Smart LED Television, Tab, Mobile Phone etc. of Taka around two lac had been distributed among the Raffle Draw winners in the program.
Popular Tags:
---
Primeasia
Admission
Orientation
2018
Tour
Fall