Primeasia University has Discussion Meeting with Chung Cheong University, South Korea
Posted on March 09, 2019
Tags: South Korea Chung Cheong University Primeasia University
---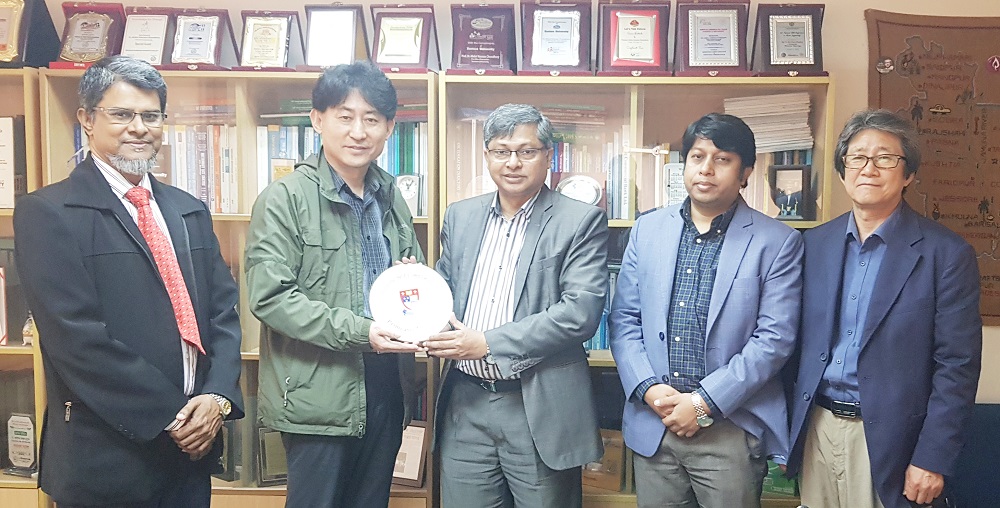 ---
Primeasia University had a Discussion Meeting with Chung Cheong University, South Korea on Saturday on March 09, 2019 at its Vice Chancellor's Office, Banani, Dhaka.
Prof. Dr. Abdul Hannan Chowdhury, Vice Chancellor of Primeasia University was hosted the Discussion metting while Mr. Yong-Hwa Lee, Director, Office of International Exchange, Chung Cheong University, Mr. Janny Won, Country Representative of Chung Cheong University in Bangladesh, Shaikh Mahmud Alam, Managing Director and CEO of Jamira Sourcing Ltd. and Mr. Amit K. Biswas, Editor and Publisher of the Apparel News was present in the meeting. The main object of the discussion meeting was to establish a profound relationship between Chung Cheong University and Primeasia University. Both institutions have agreed to sign an MOU for possible collaborations of faculty exchanges and implementing a Korean Language program at Primeasia University and take credit transfer facilities by the students. Ms KyungNa Oh, the Presidient of Chung Cheong University, South Korea will visit Bangladesh in April 2019 and will formally initiate the collaboration.
Chung Cheong University will also support Primeasia University by providing Books, Faculty members and Technological assistance to operate the language courses in its premises.
Popular Tags:
---
Primeasia
Admission
Orientation
2018
Tour
Fall