Cyber Security Awareness Session Held at Primeasia University
Posted on November 15, 2018
Tags: Cyber Security Primeasia University
---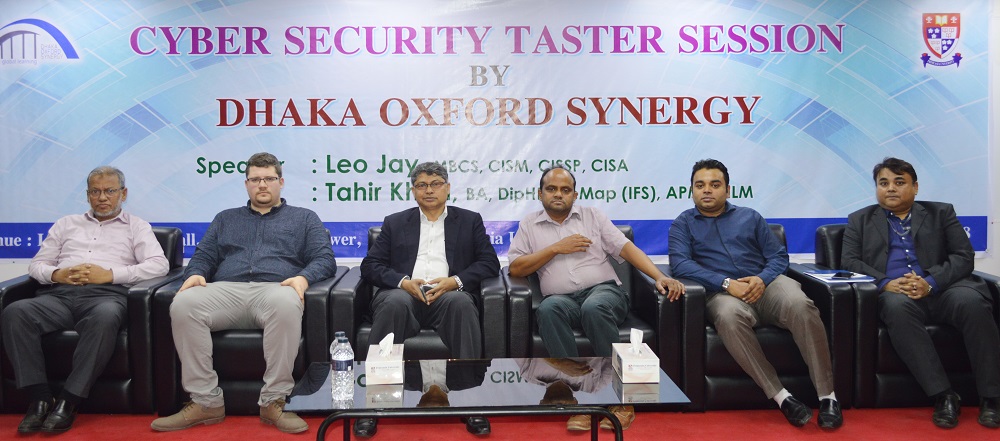 ---
Dhaka Oxford Synergy (DOS) has arranged a seminar on "Cyber Security Awareness" at Primeasia University campus Banani, Dhaka in association with Primeasia University CSE Club at its IQAC Conference Center on Thursday November 15, 2018.
Prof. Dr. Abdul Hannan Chowdhury, Vice chancellor of Primeasia University graced the seminar as the Chief Guest while Tahir Khan, Chairman, Dhaka Oxford Synergy and Leo Jay, Information Assurance Specialist at Edinburgh Napier University and Certified Information System Auditor were present in the seminar as the Key Speakers.
In the program, Ershadul H. Chowdhury, Associate Professor and Head, CSE Department, Syed Abul Hasanat, Deputy Director, Planning and Development of the University, Forrukh Shovon, Marketing In-Charge, Dhaka Oxford Synergy were took part in the event.
Among others, faculty members, officers and students from different departments of the University were present in the program.
The Speakers said that Cyber security is the practice of protecting systems from cyber-attacks. It is an important issue because an effective cyber security system reduces the risk of cyber-attacks. Raising cyber security awareness is one of the main strategies of data protection. Modern Companies and many organizations are developing cyber security programs to train to battle with cyber threats.
Popular Tags:
---
Primeasia
Admission
Orientation
2018
Tour
Fall