Seminar on Salesman in Business Management held at Primeasia University
Posted on December 02, 2018
Tags: Seminar Business Primeasia University
---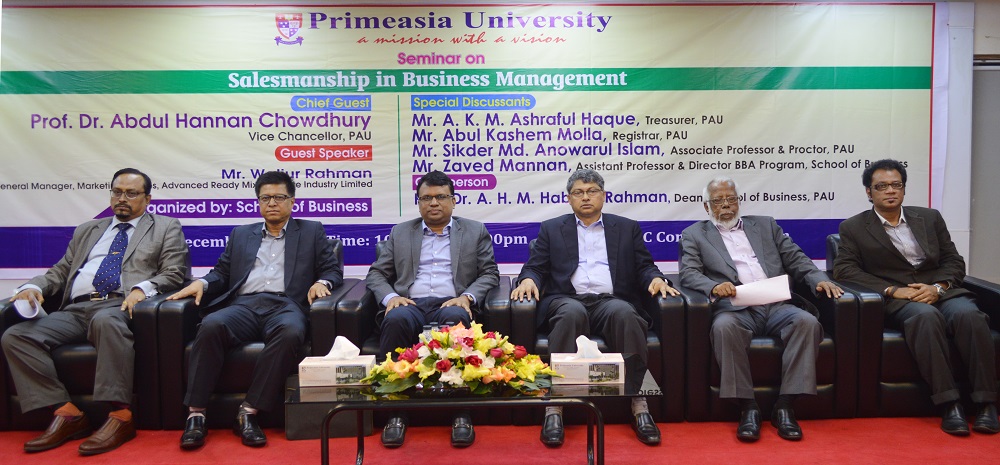 ---
The School of Business of Primeasia University has organized a seminar on Salesman in Business Management on Sunday, December 02, 2018 at 11:00 am at the IQAC Conference Center of its campus, Banani, Dhaka.
Professor Dr. Abdul Hannan Chowdhury, Vice Chancellor of Primeasia University graced the program as the Chief Guest in the Chair of Prof. Dr. AHM Habibur Rahman, Dean, School of Business of the University.
Mr. AKM. Ashraful Haque, Treasurer, Sikder Md. Anowarul Islam, Proctor and Mr. Zaved Mannan, Director of BBA Program of Primeasia University were present in the program as Special Discussants in the seminar.
Mr. Waliur Rahman, General Manager, Marketing & Sales, Advanced Ready Mix Concrete Industry Ltd. was present as the Key Note Speaker. He has shared his different views of his own life in the marketing filed among the business students. He shared some motivational attitudes, relationship, power of influence, basic selling process and also distribution channels.
Among others, Mr. A. R. Khan, Head of International Tourism and Hospitality Management (ITHM), faculty members from BBA Program and ITHM department took part in seminar.
Popular Tags:
---
Primeasia
Admission
Orientation
2018
Tour
Fall